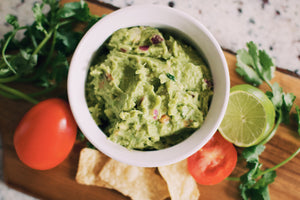 8 Delicious CBD Oil Recipes You Will Love To Try
The history of cooking and cannabis can go back to medieval times in India. People still mix cannabis flowers and milk or use cannabis in foods. Other regions such as East Europe and South America also recorded historical evidence that the cannabis plant was a part of their culinary adventures.
CBD or cannabidiol is the most impactful and invigorating cannabinoid from the hemp plant, and there are numerous ways to incorporate it in your daily cooking! Hemp has less than 0.3% THC, so the use of CBD Oil is an excellent alternative to cannabis that has a higher amount of the psychoactive cannabinoid THC.
We tried several recipes for our readers to enjoy the stimulating punch of CBD in their daily snacks and meals. Try all of these and let us know what you want the most!
CBD Oil Recipes
1. Guacamole
A zesty and interesting Mexican condiment that we all enjoy, Guacamole is full of healthy fats and zesty lime that enhance the effect of CBD. Here's a simple recipe that will add flavor to your game time binging while invigorating your body!
Ingredients:
Avocado, three medium-sized.

Lime, one tablespoon,

Salt, to taste.

Tomatoes, two medium-sized,

Cilantro leaves, one tablespoon,

One ml Full-Spectrum CBD Oil.
Method:
Mash the flesh of avocados in a bowl with a fork or spoon, and add the tomatoes cut in small cubes. Add the salt, cilantro, and lime juice and stir it. You can spice up the Guacamole with cayenne pepper or black pepper. In the end, add one ml of Full-Spectrum CBD Oil and stir the Guacamole. You can eat this condiment with chips, nachos or add it to a sandwich! You will love the energizing and refreshing snack.
2. CBD Pesto Pasta With Spicy Shrimp
We all are a fan of pasta and seafood! Let's combine these two with a punch of CBD to feel the soothing and energizing effects while enjoying a gourmet meal! The high-fat ingredients compliment CBD and make its absorption quicker and easier. The impact of CBD pesto in your favorite pasta will ensure that you never try CBD alone! The delicious meal will always accompany the dose of cannabidiol!
Ingredients for pesto:
Parsley, half-cup,

Cherry tomatoes, half-cup,

Garlic cloves, two or three,

Pine nuts, one teaspoon,

Salt and pepper to taste,

Full-Spectrum CBD Oil.
Shrimp Pasta:
Penne Pasta, 8-ounce approximately.

Shrimps, as many as your hearts desires!

Cherry tomatoes, three or four,

Butter, two tablespoons,

Olive oil, one tablespoon,

Garlic, one clove,

Asparagus, two-inch pieces.
Method:
Prepare the pesto by adding leafy greens and all other ingredients to a blender. A good spin will be enough to prepare the sauce.
Shrimp Pasta:
Boil the penne pasta until cooked and keep it in a sieve until the shrimp sauce is done. In a pan, add some olive oil and crush a clove of garlic. Stir the garlic and add shrimps. Fry them till they look done, and then add tomatoes, butter, asparagus, salt, pepper, and lemon juice. Let the sauce simmer for a few minutes on low heat, and then add the penne pasta. Dish out the pasta in a bowl and top with the zesty pesto! Your CBD-infused shrimp pasta is ready!
CBD goes well with fatty foods, and butter and olive oil are a great way to help absorb the cannabidiol-infused food! You will feel the highest level of satisfaction after a delicious meal and a potent dose of CBD. 
3. CBD Whipped Cream
One of the easiest recipes is to add CBD to chilling whipped cream. You can top cupcakes, bread, ice cream, or any other food with the cream to feel the boost! 
Ingredients:
Whipping cream, one pack.

Caster sugar, one cup,

Vanilla extract, two tablespoons,

Full Spectrum CBD Oil or CBD isolate powder.

 
Method:
In a mixing bowl, empty the pack of whipping cream and beat for few minutes. Add the caster sugar and beat again till stiff peaks are formed. Add the dose of CBD to enjoy the creamy goodness with any dessert of your choice.
4. CBD lemon cooler drink
Here's a refreshing drink to cool off in the summers while giving your body a splash of potent CBD. The lemon cooler incorporates Vitamin C with CBD to change your gear to a higher speed!
Ingredients:
Lemon, two large ones.

Icy water,

Honey,

Mint leaves, two or three,

Full-Spectrum CBD Oil.

 
Method:
Add the lemon juice, iced water, honey, and mint leaves to your blender and give it a pulse for a few minutes. As you transfer the cooler drink to a glass, add one millilitre of CBD Oil and stir. Your refreshing dose of cannabidiol and energy is ready!
5. CBD Paleo Chocolate Chip Cookie Bars
For all vegan and paleo dieters who want to energize their days with CBD, here's an exciting recipe to enjoy! Who doesn't love chocolate chip cookies and the aroma that rises from the oven when you bake! Enjoy the baking and devouring experience, and you will be surprised by the results!
Ingredients:
Coconut sugar, half-cup,

Almond butter, half-cup,

Almond flour, one cup,

Cinnamon powder, one-teaspoon,

Vanilla bean paste, one teaspoon,

Coconut flour, one cup,

Egg, one-large,

Baking Soda, one teaspoon,

Chocolate chip cookies, ¾ cup.

CBD Coconut Oil, 90ml.
Method:
Preheat the oven to 350F and grease a baking sheet before lining it with parchment paper. Mix all the ingredients in a bowl and transfer them to the baking sheet. Spread out the batter and add an extra chocolate chip on top for the chocolate bonus. Bake for twenty to twenty-five minutes and remove from the oven once done. Cut out the cookie bars and enjoy one a day or even more!
6. Mexican Quinoa Salad with CBD
Another Mexican treat for all readers who want to try CBD in innovative ways is the quinoa salad. Try this one out, and you will feel fresh and energized!
Ingredients:
Cooked quinoa, one cup,

Black beans, half-cup,

Onion diced, half-cup,

Cherry tomatoes, ten or twelve,

Cilantro, one bunch,

Sweet corn, one cup.

Olive oil,

Lemon juice,

Three ml CBD Oil
Method:
Add all the ingredients to a bowl and dice them so that they get adequately blended. Top with olive oil, lemon juice, and lastly, a sparing dose of CBD. The tangy, fulfilling salad will add to your fitness and energy levels! Now a refreshing after-workout salad or a mid-day lunch can invigorate your senses while appealing to the palate!
7. Energizing Chocolate CBD Latte
Here's a balmy, soothing cup of chocolate to enjoy with the goodness of CBD.
Ingredients:
Unsweetened milk, one cup,

Maple syrup, one tablespoon,

Cacao Powder, one tablespoon,

Salt, one pinch,

Flavoring of choice, cinnamon, rose water, cayenne, etc.

CBD Oil, one dropper of 500mg or more.
Method:
In a small pot, heat the milk with all the ingredients except CBD Oil. Blend well and bring to simmer. Transfer the chocolate latte to a cup and top with a full dropper of CBD Oil. The potency of cannabidiol and the soothing effect of the chocolate latte will transport you to an energized and motivated dimension!
8. CBD Chicken and mushroom
Another gourmet meal with the positive effects of CBD makes it legit to consume all the fat! Try this recipe and find an excuse for a sinfully delicious meal!
Ingredients: 
Chicken breast, one medium-sized.

Garlic cloves, five.

Butter, two tablespoons,

Heavy cream, one cup,

Mushrooms, one cup-cut into halves or sliced.
Method:
In a frying pan or skillet, add the butter and olive oil. Next, add the crushed garlic cloves and stir for a while. Spread out the chicken breast over the butter and sprinkle with salt and pepper. Cover the pan with a lid and let the chicken cook for twenty minutes. Add the mushrooms and heavy cream. Top the cream with more salt and pepper. 
Once you transfer the curry to a serving dish, add CBD Oil to the prepared meal! Enjoy with boiled rice, pasta, or on its own!
Conclusion
Cannabis cooking goes back centuries, but due to the advancement in technology and science, we now get Full-Spectrum CBD Oil without any psychoactive effects and total exposure to the goodness of cannabidiol. Try the delicious recipes above to enjoy the surge of energy while pleasing your taste buds!
---