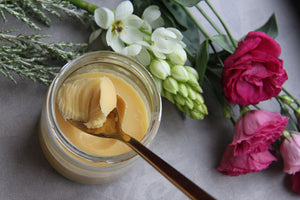 CBD Butter - How To Make And Use It.
When you want to try using CBD in your regular food items, there is a better chance that you will consume it regularly. We all might forget to take a dropper full of CBD oil, but we don't forget our toasted bread with a dollop of honey and some butter! Why not try a food item that will refresh your epicurean side while offering a full dose of CBD?
What is CBD Butter?
CBD Butter is the best way to incorporate cannabidiol in your daily life as it is already a part of our American breakfast platter! Whether you are a scrambled eggs lover or you prefer pancakes, butter is the perfect staple. 
Moreover, you can add CBD Butter to other recipes and benefit from the stimulating benefits of the cannabinoid. 
Let's look into some exciting and easy ways to make CBD Butter that will not require a long time for preparation, but it goes a long way!
CBD Butter for daily use
The recipes we are sharing here are not only easy, but they will taste the same as your daily butter, considering the dosage and potency of the CBD oil you use. Follow the recipe and create your CBD-infused everyday staple. 
Ingredients
2 cups butter,

1 cup water

20ml CBD oil.
Method
Chop the block of butter into smaller pieces.

Put the water, butter, and CBD oil in a pan and heat it on low heat. Be sure not to heat the mixture any higher than 150 degrees as we only want the butter to melt and mix with the water. 

Let the mixture cool after 15 minutes of stirring.

Store in an air-tight container and refrigerate.

Use the CBD Butter according to your dosage.
Another recipe for CBD Butter is as follows:
Ingredients

One cup butter,
Dried hemp or high-CBD hemp flower,
Method

Grind hemp flower until a coarse powder is created. Ensure that you break down the flower to utilize the cannabinoids present in it. Preheat the oven to 220F and heat the hemp flower powder in it. This process will decarboxylate the hemp flower, and it releases the cannabinoids for easy access. 
Melt butter on slow heat in a pan and add the crushed/powder hemp flower to it. Store the butter in an air-tight container to use as often as you like. This CBD Butter will remain fresh as long as it lasts!
Nut CBD Butter

An interesting twist in CBD Butter is collaborating with nut butter that adds taste and nutritional value. You can use any almond or peanut butter in the same way as given above to enjoy the benefits of nuts. 
For almond butter, you would not have to add any water as the consistency of this nut butter is less than peanut or other nut butter. The fat content of all nuts like peanuts, almonds, cashew nuts, and hazelnuts support cannabidiol and add to the quick absorption of CBD in your body.
How can I use CBD butter?
CBD Butter can be an essential ingredient for all your cooking and baking recipes. However, we never recommend CBD oil in baking as cannabidiol cannot tolerate high temperatures and disintegrates.
You can use CBD Butter to fry eggs or on your toast. Many other ways of using this butter are to make delicious foods! If you choose to infuse butter with CBD oil, the methods of using this in foods can be limited to prepared foods, but you can use the hemp flower butter to make muffins, brownies, or any baked item of your choice! 
Another exciting way of using CBD Butter is to mix it with coconut oil as salve or balm. The cannabidiol and butter mixture can be an excellent facial mask that invigorates users while nourishing the skin. Adding a few drops of essential oil to CBD Butter will give you a quality topical cream that will calm the nerves due to essential oil and invigorate the senses due to CBD!
Is it an effective method of consumption?
CBD is a fat-soluble cannabinoid, which mixes well with fats such as oil or butter. CBD Butter is a perfect way to benefit from the goodness of CBD as the fat will support the efficacy of cannabidiol, and you will feel the impact potently and effectively. The best way to consume CBD is with a portion of oily food or beverage. CBD Butter with creamy pasta or a warm cup of coffee with toasted bread and CBD Butter will be a good start to the day while it will stimulate your senses all day long. 
Ensure that you use unsalted, full-fat butter so that its efficacy is maximum. For vegans, coconut oil is an excellent butter base as it solidifies at lower temperatures. 
How to store CBD Butter?
Once you prepare CBD Butter, store it in an air-tight container to remain free from contamination. It is essential to refrigerate the butter to stay fresh and uniform in the distribution of hemp flower powder or even CBD oil. Once melted, the hemp flower particles can settle to the base. Hence it is necessary to keep your CBD Butter below room temperature. If you plan to store your CBD Butter in the form of sticks, cover them with wax paper and store them in the freezer or refrigerator. 
Conclusion
CBD Butter is an excellent way to consume cannabidiol daily. You can enjoy this butter in many ways as it can replace the ordinary butter used in most recipes. Since CBD is fat-soluble, its potency and impact are enhanced when added to butter. You can make CBD Butter using the formulae given above, and it will come in handy in many ways! Storing CBD Butter is easy as you need an air-tight container, which must be kept in a cool, dry place. We always recommend keeping CBD Butter refrigerated as this keeps the cannabinoids fresh and safe from contamination.
---