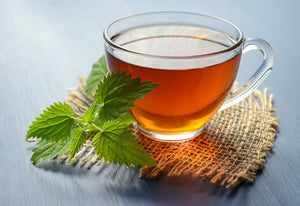 CBD Tea Recipes: How To Make A Delicious Cup of CBD Tea.
There are CBD products suitable for all kinds of users everywhere you see, but some old-school items can never go out of use because they offer the results you need.
What is CBD Tea?
CBD Tea is an excellent soothing way to consume cannabidiol, which can stimulate you while the warmth of the tea invigorates your senses. Tea enthusiasts tout the health benefits and the calming effect that takes over the senses and soothes you after a long day. The flavorful cup of warmth early morning or late at night makes users feel comfortable and gives them a refreshing calm. 
Hot beverages can never disappoint as they have a pick-me-up quality, and CBD makes sure the impact stays for long! If you haven't tried CBD Tea, it is time you find your perfect cuppa and celebrate the goodness of nature! Read on to see how you can add CBD Tea to your daily routine and change how your day unfolds.
Tips for making CBD tea
Before you get the kettle out, remember that CBD is immensely stimulating on its own, but when you combine it with green, black, herbal, or any other kind of tea, the results are amplified. CBD Tea is not as easy as it sounds because of the hydrophobic property of this cannabinoid. You cannot mix CBD Oil in water as it requires an oily base to dissolve. CBD dissolves better in fatty substances such as butter, coconut oil, and adding them to your beverage can be a good idea. 
However, adding oil after preparing the tea works for most users and adds the stimulating qualities of CBD to your cup of tea! 
You can enjoy hot or iced tea, and it will energize you in every season. You can also add CBD oil to brewed tea so that you enjoy the effects of an accurate dosage without worrying about dividing the liquid in a way that your daily consumption is met. 
Even if you want iced tea, using hot water while preparing is essential as temperature activates vital CBD compounds. This process will give you better results than adding CBD oil to your chilled drink.
CBD oil is most commonly used to make tea, but if you want, you can use other potent cannabidiol products such as tinctures and isolates.
Using Tinctures for CBD Tea
CBD tinctures are rich in essential oils and have natural flavors such as key lime, orange, or lemon. Additionally, you may find some CBD tinctures that have Stevia added for some natural sweetness. 
It is a great idea to prepare CBD Tea with a tincture as you can add a high potency liquid to boost the potential of a cup of soothing tea. The added flavors can add to the experience as zesty citrus or fruity flavors are always stimulating and make your cup of tea interesting, aromatic, and delicious.
Try these CBD Tea recipes for a refreshing drink
CBD Tea can have an excellent flavor and is easy to make. You can add your favorite ingredients and share with others as creativity knows no boundaries, and we all want some innovation in our lives. Check out the following recipes and see which one hits home for you!
CBD Ceylon Tea
Ingredients:

1 cup Water
½ teaspoon Ceylon Tea leaves
½ teaspoon Honey
1 stick Cinnamon
Milk to taste
CBD Oil 
Method:
Boil a cup of water on medium heat with a cinnamon stick. As the water begins to bubble, add Ceylon tea leaves. Let the tea boil for one minute and add milk and honey. Turn off the heat and add one dropper full of CBD oil. Stir the tea for a minute and cover it for five minutes to let the flavors infuse. Use a sieve to pour the tea into a cup. Enjoy the warm tea and get ready for some stimulation! 
Mint CBD Tea
Ingredients:

One or two Peppermint leaves
1 teaspoon Cocoa Powder
1 cup Hot Water
Milk
CBD Oil
Method:
In a pan, heat water with peppermint leaves. Add the teaspoon of cocoa powder and stir as the tea boils. Let it simmer for one minute, and then add milk. Turn off the heat and add CBD Oil. Cover the tea for a minute and then transfer it to a cup. Drink your troubles away with this minty, chocolate tea enhanced with CBD. 
CBD-infused iced-fruit tea
Ingredients
1 cup Water
1 slice Lemon Peel 
1 slice Orange Peel
½ teaspoon Honey
CBD Tincture (lemon, lime, orange flavor).
Method: 
Boil a cup of water with lemon and orange peel. Let the water boil for one minute before turning off the heat. Add half a teaspoon of honey and stir. Before covering the saucepan, add one dropper of CBD Tincture. Let the flavors infuse for a while, and then transfer the tea to glass and chill in the refrigerator. The citrusy tea will be ready within an hour. Enjoy!
Strawberry Earl Grey
Ingredients
1 cup Water
½ teaspoon Earl Grey Tea
½ teaspoon Honey
CBD Tincture (Strawberry flavor).
Method: 
In a cup, add half a teaspoon of Earl Grey Tea and honey. Boil water in a kettle and add to the cup. Cover the cup and let the tea brew for five minutes. Add a dropper full of CBD Tincture to the tea and cover again. Stir the tea after one minute and let it sit for a while before taking the first sip. The sweet, fruity tea will soothe and stimulate!
CBD Masala Latte 
Ingredients

1 cup Water
½ cup Milk
1 tablespoon Full-Fat Cream
1 teaspoon Black Tea Leaves
1 Cardamom
1 Clove
1 stick Cinnamon
CBD Oil
Method:
Boil one cup of water with cardamom, clove, and one stick of cinnamon. When the water begins to bubble, add a spoonful of Black Tea. Let the tea boil for one minute, and then add milk. Stir in the cream and turn off the heat. You can add a sweetener to your tea as well. Lastly, add one dropper of CBD Oil. The oil will dissolve with the cream as you stir. Cover the tea for one minute and then pour it into a cup using a filter. Enjoy!
Last thoughts
CBD Tea can be an exciting way to take your daily dose of CBD. While cannabidiol can be stimulating by itself, adding it to a warm cup of tea can refresh you for the day ahead. Enjoy the recipes and revitalize your senses in style!
---