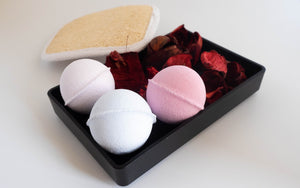 DIY CBD Bath Bomb: Making & Using Guide
Submerging yourself in a tub of hot water after a gruesome day. Dropping in a fizzy ball. Lighting up a scented candle. And letting all your worries soak away.
The experience is truly extraordinary. And, something that literally has no parallel!
Now imagine bringing CBD into the scenario.
A CBD-infused Bath Bomb is beyond relaxing when paranoia is hitting you hardest, the body hurting to the last bone or anxiety pushing your morals down. It will render a nurturing, holistic way to pamper yourself and support your mental, cardiac and physical health.
How about sculpting your own CBD Bath bombs at home? It is surprisingly easy to make and merely involves blending science with your skill, tactic and creativity. Here is everything you need to know from the right recipe, to the reasons and usage: 
The Recipe
The following shall ideally yield 10 large CBD Bath bombs.
Props
Mold

A Pair of Disposable Gloves

Mixing Bowl

Measuring Cups

Whisker

Parchment Paper
Ingredients
16 oz (2 cups) Baking Soda

8 oz (1 cup) Citric Acid

8 oz (1 cup) Corn Starch

8 oz (1 cup) Epsom salt

2 to 4 tablespoons water

5 to 10 drops of Lavender Oil

2 tablespoons of Melted Essential oil of your choice (coconut, hemp, avocado, eucalyptus, or citrus)

Few drops of flair of your choice- glitter, dried flowers, beet juice or red, yellow or green food coloring.

250 mg of CBD Oil (25 mg per bomb) or 1 dropper of CBD per bomb
Directions
1) Mix well all the dry ingredients in a bowl; baking soda, Epsom salt, cornstarch, and citric acid.
2) Break clumps with your hands to ensure a smooth mixture.
3) Add all the wet ingredients in another bowl; essential oil, CBD oil, lavender oil, and water.
4) Slowly fold the wet mixture in the dry ingredients. Gently whisk without smooshing so the mixture doesn't frizz.
5) Keep stirring to make sure there are no clumps and achieve a damp sand-like consistency
6) In case, if you get frizzing, add more dry ingredients
7) The mixture should be firm enough to retain its shape. Check the firmness by squeezing the clump in your hand and releasing the grip. If the shape doesn't form well, pour a tad more water.
8) Next, it's time to carefully place the formulae into molds tightly. Remember, these molds are time sensitive so work quickly to avoid drying out.
9) Level out the top surface of the mold. Uneven layers can cause bombs to crack.
10) Allow it to sit in the mold for 30 to 40 minutes. Don't touch or open even if you are hell tempted.
11) Finally, it's time to reveal. Slowly remove the mixture from the mold and arrange them on a cookie sheet. Or perhaps press the sheet on top of the mold and flip it upside down for the bomb to automatically come on the sheet.
12) Allow them to dry overnight in open air and keep checking periodically.
Tadaa! Now relax with your magical healing power bath bombs.
Pro Tips
1) Always use a low-potency oil that will easily distribute throughout a batch. This will ensure even delivery for each bomb.
2) Coconut Oil works best for added moisture.
3) The minimum dose of CBD Oil for each bomb is 20 mg. However you can safely add up to 40 mg depending on the impact you wish to achieve.
4) If the bath bomb crumbles while taking out from molds, then you can rejuvenate it by spraying some water to bring them right back into shape! 
Why Make CBD Bath Bombs At Home?
A CBD-infused Bath Bomb can be best described as "Killing two birds, with one stone". Here are all the convincing reasons to make them at home:
A Potent Reliever
Looking for a way to indulge in some divine self-care to escape the mundane routine? But how on earth to soothe those stubborn problem areas of your body? If you have ever tried seeking answers to such questions, CBD bath bombs will be your new best friend!
A Relaxant
The calming properties of this bath-time treat will help you ease into a much more stable headspace and achieve that tranquility you've been craving for so long.
All Organic Ingredients
And if that wasn't magical enough, these oil-based bath bombs use completely organic ingredients to bring life to your skin, hair and nails.
Healthier and Wholesome
Do you know CBD absorbs into your skin much more effectively when infused into steaming water? That's why you should consider pairing this fun self-care regime with warm water to allow it to soak right through the layers of your skin.
Cost effective
With minimum effort and lost investment costs, you will be able to indulge in a fully immersive CBD experience covering your mind, soul and body.
Custom Creations
Another big advantage is you get to create a bespoke blend with the color, strength, potency, size and fragrance of your choice for added relaxation and good vibes.
Easy
The recipe is easy enough for anyone to try the first time.
How To Use a CBD Bath Bomb?
There is really no science behind using a CBD bath bomb. You can try countless different ways to keep yourself entertained if you love the feeling of floating around in what feels like space!
Some the fizzing effect that enables these little orbs of healing to diffuse their all-organic ingredients into the steaming bath. Or perhaps you can even hold it down under water to speed up the process and see the action up close!
As soon as you immerse yourself in the bath, the terpenes and minor cannabinoids from the bath bomb will transfuse into your skin to create a unique sensation. This accompanies the exquisite blend of aromas from the hemp and essential oils to help you transcend into another world. Also, one can soak in this goodness for as long as they like, but a minimum time of 30 minutes is recommended for optimal results.
Concluding Remarks
There is no trouble in this world so serious that it can't be cured with a hot bath, a glass of Whiskey and the Book of Common Prayer.
- Elizabeth Gilbert
There are very few experiences that come close to a relaxing warm bubble bath. And among the plethora of bath essentials, bath bombs are gaining prominence for their incredible wellness benefits. These palm-sized fizzes come in a variety of shapes and colors.
Hold on! You are still one step far from creating the perfect bath set-up. CBD is the missing ingredient! It will take the experience to a whole new level and will be the ultimate relief-comfort combo for a truly gratifying experience.
And if you feel a little experimental, try our recipe for a DIY Custom CBD bath bomb.
One can also make these bath bombs with CBD isolates or tinctures. The only key is to buy the highest quality CBD from the most reputable vendor.
---