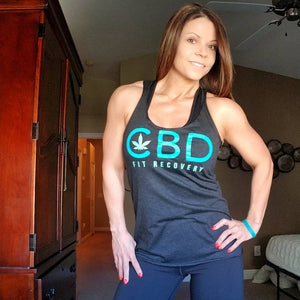 How CBD has changed my life!
For the past 6 years fitness has been a huge part of my life. I would spend hours in the gym each day, this was my time to unwind and let everything go, my time to focus on me and make myself better. As a Personal Trainer and Instructor for future personal trainers, I was living my passion. I built a Facebook community, brand, team and business around fitness, Project_Fit_Nation. Many times the gym was my therapy, it helped relieve stress and anxiety. 
About 6 months ago I was rear ended while driving, I suffered from 2 bulging disks in my neck and 1 in my lower back. My pain was so severe that I knew I would be out of the gym for a good while. 
After several chiropractor visits and trips to the pain management doctor, I wanted so badly to feel better and get back to the gym. My pain was high so I was unable to exercise, my anxiety was elevated since I did not have my "therapy" gym time. My pain management Dr. prescribed pain medication, however I knew in the long run it could do more harm than good, growing up in an environment where prescription drug abuse was a family problem, I did not want to take that road. 
I had heard a little about the benefits of medical marijuana, however I could recall, as a teenager feeling extremely paranoid after trying marijuana, which was a reason I never tried it again. After doing quite a bit of research, I looked into CBD without THC. Many people claimed to have pain and anxiety relief after using CBD alone. I decided to give it a try.
The only place I knew to get CBD was from the local Las Vegas marijuana dispensary, so I stopped in on my way home one day. To my surprise I was in an upscale store with  chandeliers and "weed" encased in glass display cases, the staff was so friendly and everyone was extremely happy! Feeling a bit out of place, I asked one of the sales members for 100% CBD with no THC. 
That evening I tried my 1st CBD Capsule. Within about 20 minutes I felt some pain relief and felt very calm. I probably got the best sleep I'd had in months that night. 
Fast forward about 5 months later, I now use CBD daily. I take a CBD capsule every night and I use Canna Hemp CBD Pain Cream directly on my neck and back or anywhere that has pain. CBD is all that I use to manage my pain and anxiety. I am back in the gym and feeling much better both physically and mentally. I am not 100% pain free but I feel much better and I am able to function and get back to the things I love doing. 
CBD helps to relieve my pain, anxiety, stress and helps me sleep. I know so many people that have conditions where CBD could help them so I have started another business CBD Fit Recovery to share the information and the products that I use and that help me. 
I am thankful that an unfortunate event has helped open my mind and help others in so many ways. Turned a negative into a positive! I get messages daily from people saying that CBD is helping them and their families. 
Life is too short to live in pain, give CBD a try. I'm sure glad I did, It has honestly changed my life for the better. 
Jessica Tenelle Perry 
NASM Certified Personal Trainer, NASM Instructor, NASM Certified Fitness Nutrition Specialist, Project_Fit_Nation Owner, CBD Fit Recovery Owner. 
---